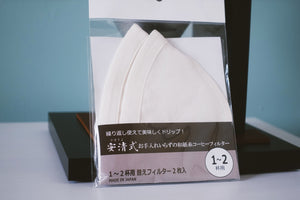 2pcs filter replacement for Yasukiyo Washi Fiber Cloth Filter.
Handling instruction:

Before first time use, soak cloth filter in hot water for three minutes then wring tightly to make it dry before start brewing.

After used, take the cloth filter out from the handle and throw out coffee ground. Rinse the filter and remove the coffee ground that left, don't rub it hardly. When finish washing, wring and let it dry naturally.