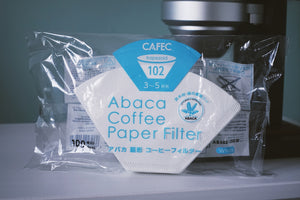 This filter is made by Abaca (Manila hemp), different from the normal paper filter (made by wood pulp). The particularity of this material makes this filter has good air and liquid permeability, provides you a cleaner cup and nice acidity of coffee.
This paper filter is authorized by JHDC (Japan Hand-Drip Championship), and is rated high as a paper which can brew out "high-qualitied coffee with good acidity".
102 size for Kalita Hasami 102 Dripper, Cafec G102 Dripper, Melitta 1x2 Dripper and other similar size drippers.
100pcs per pack.